We not only promise to deliver beautiful landscaping, but that you will never have to worry about clean-up. We leave every site immaculate. We are licensed and insured.
Our Services Include: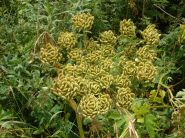 Free Estimates
No two projects are the same. We don't believe in one price fits all, because we won't skimp on your service. We provide accurate, realistic, and reasonable estimates.
Noxious Weed Control
For almost 30 years we have been providing weed control on the western slope of Colorado! We have the equipment and skills to maintain your small acreage lots or your 1000+ acre ranches. We use the appropriate herbicides to treat your property
Equipment
We have full size 4 wheel drive spray rigs, with both small and large boom set ups, and up to 800 feet of hose line. We have several atv spray rigs. Each of the vehicles allow us to reach sensitive areas without destroying the environment.
Personel
Our crews do a complete job. We have put backpacks on to walk 2 miles to get that small patch of weeds that were an eye sore to a client. We have used rappelling gear to be lowered to weed patches. We dont just sit in our trucks and get the weeds that get close to our windows.